2016 Road Trip Checklist in SAN ANTONIO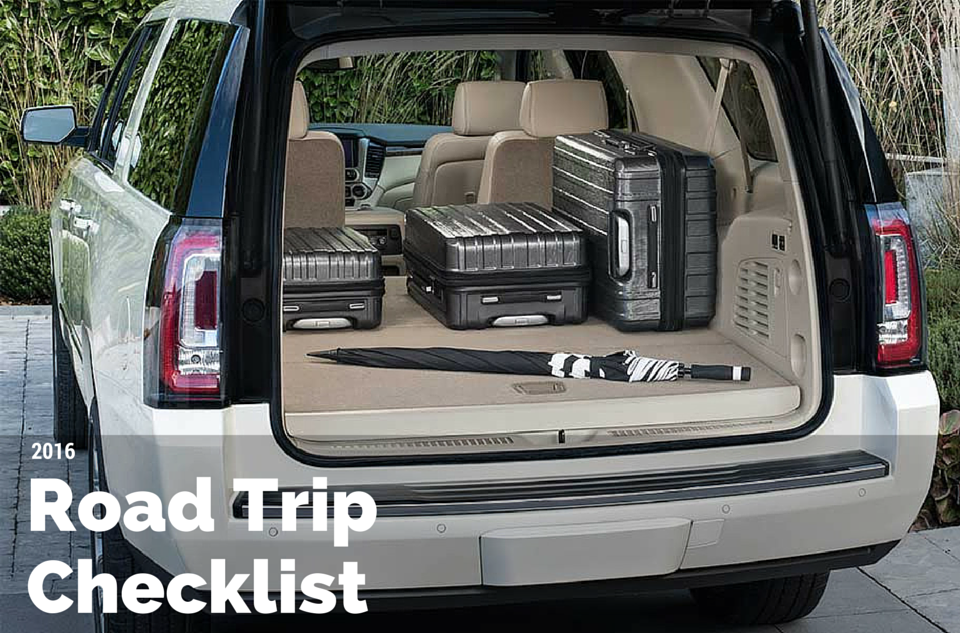 Shop Buick and GMC inventory!
You don't want to find yourself 50 miles outside of SAN ANTONIO while on a road trip to come to the devastating realization that you forgot your wallet, which possibly stores your driver's license, credit cards and other must-have driver essentials.Instead of wasting all the miles and gas you've spent just to get to that point, we've created a checklist of road trip items that you don't want (or need) to forget!
Documentation
:
Headed to the ancient city of Greece? Don't forget your passport! Visiting Mickey, Minnie and the whole Disney gang in Orlando? Don't forget your driver's license and other important documentation before hitting the road! This includes insurance papers and your vehicle's registration.
Tickets: Speaking of those and other heavily populated summer destinations, make sure you have your plane and/or park tickets on hand. Most tickets can be stored electronically on our smartphone, but it's never a bad idea to keep a hard copy of tickets.
Spare Keys: Just in case you accidentally lock your car keys in the trunk or drop them at a random gas station, never travel with a lone car key, especially if you're en route by yourself! Make sure this spare key is easily accessible or kept with a traveling buddy you can trust.
Comfy Items: This includes blankets, pillows and comfortable clothing to keep you nice and cushioned for the long haul. You're at an advantage if your Buick or GMC is equipped with ventilated front seats and dual-zone climate controls, which helps to prevent any temperature disagreements between you and your traveling companion.
Maps: Thanks to an available navigation feature on the Buick IntelliLink and GMC IntelliLink, road trips just became a lot more easier to navigate. But if you want to add a little more personality and extra security, take a map with you. A map or an atlas always provides cool stops and detours to take while headed to your destination!
Snacks: There's nothing like a quick pick-me-up while on the road! Pack energy-rich and tasty treats like granola bars, dried fruit, nuts and other handy foods to avoid making frequent food and gas station stops.
Maintenance
: Whether you're about to hit the road for a 10 hour trip or make a simple commute to work, bring your Buick, GMC or certified pre-owned vehicle to our
Certified Service Department in SAN ANTONIO
for its routine maintenance checkup! We'll check your oil, rotate your tires, replace air filters and perform other important functions to ensure your car runs like new!
Bonus
: Fortunately, most Buick and GMC models like the Enclave and Yukon can be had with a rear seat entertainment system. So that should take care of the barrage of ''Are we there yet?'' questions for at least the first half of the trip.